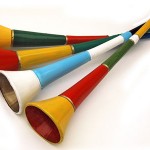 Diam tak diam da nak final da world cup tahun.
Vuvuzela adalah salah satu isu yang memeningkan kepala bukan sahaja player malah viewer kat depan tv.
Di mana ada kemahuan di situ ada jalan.
Lifehacker dan Book of Joe ada caranya nak hilangkan / padamkan bunyi vuvuzela yang mengganggu itu.
thanks to TMK for the infos.